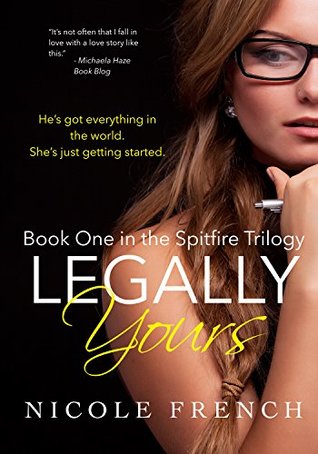 My rating: 4 of 5 stars
I was extremely surprised with this book.
Reading a lot of romance novels a year, it's inevitable to compare authors and get a preference on story plot.
In my case, I'm allergic to bullshit – weak plots where unrealistic characters achieve unrealistic things; dumb situations where it happens exactly what's impossible in real life and of course, cookie-cut happy endings where every problem dissolves magically at the end.
Legally Yours by Nicole French is basically the opposite of that.
The author managed to give the book a unique voice, different from what's already out there, with a few simple features:
The main female character, Skylar. She's a girl with a mind of her own. We constantly see how in romance novels we are opting for taking away women's control of their own life to sustain the idea that the hero is "taking care of her". In Skylar's case, she fights to keep that control for herself, even if that implies some difficult conversation with the man she loves. I applaud that.
Brandon Sterling itself. The billionaire that falls in love – I loved so many things about him. I loved that he wasn't as sure of himself as he appeared to be at the beginning of the book. I loved that he was honest about where he came from (well, for the most part). I loved that he was 37 years old because, for Christ sake, aside from Silicon Valley, there aren't any 27-year-old ruling the world. He's age gave him a maturity that we lack in so many other heroes.
The author's style. In general, Nicole French kept me reading this novel because of the easy wit she gave to her characters' voices. Not only Skylar and Brandon are part of this; you get to see the author's personally through Jane, Eric, Bubbe, Danny and many others in this book.
SPOILER ALERT: The only reason my rating is missing a star it's because of the sequence of the plot. And don't get me wrong, I pretty much liked the story but getting close to the end of the book a got kind of confuse on the relationship between Brandon Sterling and Victor Messina, why was Brandon giving him money and why Skylar didn't confront him about it. She kept saying that she didn't want him to know she knew but to me it wasn't clear what was it that she knew. (hide spoiler)]
Aside from that, I can only say BRAVO to Nicole! Congratulations for your first very successful book!
I can't wait to read the sequel.
See you between the pages,
Trish